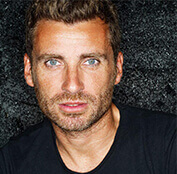 Fabian Morassut MCM is born and raised in Buenos Aires, he is majored in Marketing at the University of Belgrano.
Charmed by the endless ways lights can sculpt people's faces, he approached the world of photography by attending several courses at Central Saint Martins before kick starting his career in 2008.Since then, he has portrayed A-list celebrities of the likes of Kate Moss, Cindy Crawford, Cher and Al Pacino.
During the last few years, he has been focusing on fashion photography, which has led him to travel worldwide.
Fabien counts many international companies among his clients, such as Yves Saint Laurent, Pantene, Nestlé, Colgate, Movistar, Koleston, Revlon, Miss Clairol, Palmolive, Benson & Hedges, Procter & Gamble, Ebel, Saga Falabella, Ricky Sarkany, Rubin Singer, Onassis and Head & Shoulders.